Situé à terre mais donnant sur la rade de la Badine (Hyères): le sanctuaire d'Aristée. Ce lieu d'offrandes et de cultes, le seul connu jusqu'à présent en Méditerranée, a été édifié par les Grecs. Aristée est le dieu dispensateur des vents étésiens en période de canicule (fin juillet), vents essentiels pour la navigation ; les marins y ont laissé des céramiques dédicacées. L'installation du sanctuaire du côté opposé à Olbia montre l'importance des deux rades qui entourent la presqu'île.
Aristée est également connu comme le dieu protecteur des abeilles et inventeur des pressoirs à huile.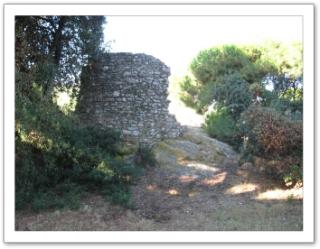 The temple of Aristeas is in a closed condominium, to date there remains nothing visible except a virtually unreadable text panel. On a rock, a piece of round, now in ruins, was built after the temple of Aristeas.

| | | |
| --- | --- | --- |
| | | |
| | The rocks or throne of a ruined wall | |
| | | |
| | | |
| --- | --- | --- |
| | | |
| | The rocks or throne of a ruined wall | |
| | | |