Exploration of underwater archeology between Porquerolles and the Giens peninsula known as "the little pass"

Maritime Fraissinet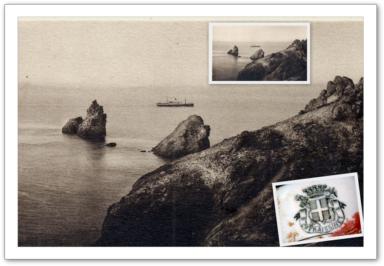 Nous avons trouvé de nombreux fragments d'assiettes, dont une possède un logo de la compagnie maritime Fraissinet.
La Compagnie Fraissinet a été fondée en janvier 1836 à Marseille par Marc Fraissinet. En 1853, l'entreprise est rebaptisée Compagnie Marseillaise de Navigation à Vapeur. En 1874, la société change de nom après quelques années difficiles, pour le nom de Nouvelle Société Maritime de Navigation à Vapeur. Depuis sa naissance, ses navires ont sillonné la Méditerranée et même au-delà en assurant le service postal, le transport du frêt et celui de passagers.

Mustard pot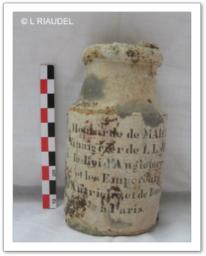 Le pot à moutarde trouvé sur notre zone de recherche daterait du XVIIIème siècle. En 1720, Antoine MAILLE est un distillateur et un fabricant de vinaigre. La maison Maille est fondée à Marseille en 1720. Il établit sa réputation avec son vinaigre, très bon antiseptique. Durant la Grande Peste qui a dévasté la population du sud de la France, les habitants de Marseille s'aspergeaient avec ce vinaigre, ce qui les sauva de la Peste. Considéré comme le meilleur fabricant de moutarde et vinaigre de tous les temps, Maille reçu très vite les honneurs. Nommé fabricant de vinaigre et de moutarde de sa majesté d'Autriche et Hongrie en 1760 et du roi de France en 1769, il devient notamment le fournisseur officiel de l'impératrice Catherine II de Russie en 1771.

Voici les inscriptions marquées sur la paroi du pot se trouvent les inscriptions suivantes :
Moutarde de Maille
Vinaigrier de LL.M.M
Le Roi d'Angleterre
et les Empereurs
d'Autriche et de Russie
à Paris.
| | | |
| --- | --- | --- |
| | | |
| | Une ancre du XVIIIème siécle | |
| | | |
Un pichet 

Possibly dating from the medieval period.
| | | |
| --- | --- | --- |
| | | |
| | Col Gréco-Italique amphora | |
| | | |
Tag

Contents of the box from the neck of an amphora type