The peninsula and the various elements that compose ...
The Badine battery
C'est dans le cadre d'un partenariat avec l'Association pour la sauvegarde des Forêts Varoises  que l' AREVPAM a conduit une étude historique dur la batterie de la Badine, pour la valoriser et pour mieux la comprendre.
More...
Batterie de la Badine et batterie annexe de la Badine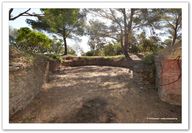 Utilisez ce modèle pour commencer un nouvel album photo vide...
More...
Escampo Bariou
Utilisez ce modèle pour commencer une page vierge
More...
AREVPAM: History & Archaeology in & on underwater.
More...
Les Pesquiers
Entrée des Pesquiers (DR)

More...
La Tour Fondue: its battery, its pier and its Roman villa
More...
The temple of Aristeas
Situé à terre mais donnant sur la rade de la Badine (Hyères): le sanctuaire d'Aristée. Ce lieu d'offrandes et de cultes, le seul connu jusqu'à présent en Méditerranée, a été édifié par les Grecs. Aristée est le dieu dispensateur des vents étésiens en période de canicule (fin juillet), vents essentiels pour la navigation ; les marins y ont laissé des céramiques dédicacées. L'installation du...
More...
Surface and Underwater Archeology in Giens, Hyères and The Whole Mediterranean
The Esquié cave
This half-submerged cave is located on the northwest coast of Cape Esterel on the Giens peninsula, close to the coastal path. The cave is exposed to easterly wind. The duct is cleared at the entrance, however further inside the rock, it narrows considerably, and a heap of garbage and debris clog the end of the duct. Steps are carved into the rock to gain access from the shore. It seems that this...
More...
Port of Niel  at Hyères
Le port du Niel, petit coin de paradis sur la presqu'île. Depuis un siècle cet abri de pêcheur, jadis une simple calanque, s'est transformé en port de plaisance. La digue fut construite au début du siècle, puis partiellement détruite lors du second conflit mondial, elle fut reconstruite après la libération. L'Hiver, seuls quelques bateaux de pêcheurs sont visibles.
On peut voir également...
More...
Port of Madrague at Hyères
Port of Madrague 

More...
The Great house at giens
The great house
IOriginally the site of The Big House was a cochonnier. The Great House was built later on this spot in 1840. His materials are different and original: sand mortar come from the beach sand, probably Almanarre. It is not uncommon to find in the frame remains of Posidonia. Stones, meanwhile, would come from a small quarry of Giens, and probably the castle. The beams have the distinction of being...
More...
Giens peninsula battery and bunker
The fortifications of Giens in 1881
Giens était relativement bien défendu à cette époque.
More...
Giens lighthouse 
Giens lighthouse (DR)
He was disarmed and destroyed to make way for communications facilities and oversight of the military, radome on the heights of the peak Escampo Bariou.
More...
Village of Giens
Village map in the early nineteenth century
Voici le plan du village à cette époque, sur plan on observe clairement le château et ses différentes dépendances. L'église n'existait pas encore, le bâtiment présent là où sera érigée l'église était le bâtiment des douanes.
Légende :
293 à 298 : loge à cochon, dont une deviendra la  Grande Maison plus tard.
300 à 314 : habitations
P : parc
J : jardin
B : bergerie
E : écurie...
More...
Giens castle
The castle :
Ruine féodale, le château règne sur le point culminant du village de Giens. De conception assez réduite, il ne pouvait soutenir qu'une attaque faible, sans canon.  Mr de Séguiran, en 1633, mentionne les dimensions de ce fort carré de 12 cannes de côtés, soit environ 29 mètres environ, composé d'écuries, d'une cour, et d'un four, la construction reste modeste...
More...
The tombolo of Giens
Le double tombolo est constitué d'un banc de sable posé  sur un socle rocheux datant du Quaternaire. Giens, pseudo-île, est reliée  au continent par un isthme de 4 kilomètres de long. Sa particularité est d'être une double bande de sable dunaire. La presqu'île partage sa rareté dans le monde avec les tombolos d'Ortello en Italie et d'Ifach-Calpe en Espagne...
More...
The bay of Hyères
The bay of Hyères
The bay of Hyères is a vast expanse of water dedicated to the craft. Yet a few years ago this area was used as range shooting and storing explosive devices. And ammunition (bullets, shells, bombs, torpedoes and gas) still living at the bottom. During underwater surveys of our campaigns, we point out systematically at the end of each campaign the exact positions of vehicles encountered on the...
More...
Other attractions in Giens, Hyères etc. ..
Other sights of Giens
Traduction (français > anglais...
More...