C'est dans le cadre d'une opération de prospection archéologique sous-marine systématique que nous avons mené notre campagne en 2011. L'objectif étant de dresser une carte des vestiges archéologiques visibles.

Les vestiges repérés sont très rares. Ceux qui ont été retrouvés sont dans un périmètre relativement proche de la cité antique d'Olbia.
Hormis l'épave de l'Etendard IVM et le gisement de la Tartane de l'Almanarre, seul un bloc mouluré a été découvert dans cette zone. Ce bloc pourrait avoir servi de caniveau pour une alimentation en eau d'un bassin.

La prospection n'a révélé aucune zone de mouillage. On peut supposer que ce secteur a été une zone de passage par la présence du port antique d'Olbia, malgré une quasi-absence d'objets, ce qui peut s'expliquer par 2 hypothèses :

Lors d'un départ ou d'une arrivée, l'équipage est concentré uniquement sur la manœuvre qui peut s'avérer délicate, ce qui limite les rejets.
Les bateaux de fort tonnage arrivaient pour être chargés ou déchargés dans un autre lieu, mieux protégé des vents mais à quelques encablures du port de commerce. La Madrague de Giens, où l'épave du même nom repose, peut argumenter cette théorie.
Le matériel antique n'a été trouvé que dans la zone limitrophe de la cité et du port antique d'Olbia.
En bordure de plage, nous avons noté que les bancs de sable se déplacent en fonction des coups de vent et de la houle.

Underwater archaeological survey 2010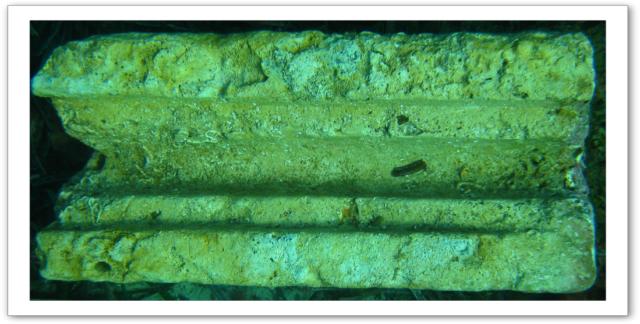 The remains found are very rare. Those that were found are in a comparatively close to the ancient city of Olbia.
Apart from the wreckage of the Etendard IVM and bearing of the tartan Almanarre, single molded block was discovered in the area. This block could have served as a channel for water from one basin.

Exploration revealed no anchorage area. Presumably, the area was a zone of passage by the presence of the ancient port of Olbia despite a virtual absence of objects that can be explained by two hypotheses:

In a departure or arrival, the crew focused solely on the maneuver can be difficult, which limits the discharge.
The tonnage of vessels arriving to be loaded or unloaded in another place, better protected from winds but a short distance from the commercial port. Madrague Giens, where the wreck of the same name is based, may argue that theory.
The ancient material has been found in the boundary area of the city and ancient port of Olbia.
Beach front, we noted that the sandbanks move according to wind gusts and waves.