Exploration of underwater archeology in the Gulf of Giens.

Fragments of crockery cooking

Dessin réalisé d'après la découverte.

Wreck of Etendard IVM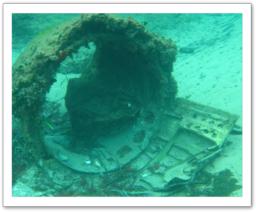 You can get more information in our section plane Etendard IVM.

Contraintes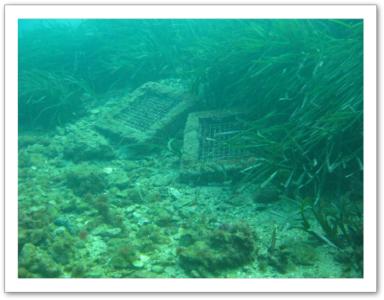 Les plongeurs de l'AREVPAM (Association de Recherche, Etude et Valorisation du Patrimoine Méditerranéen) ont re-découvert les cadres installés par Georges Cooper et son équipe dans les années 1970 afin de protéger le phénomène d'érosion marine de nos côtes et de sauvegarder l'herbier de posidonie.
Cette re-découverte est à la fois passionnante et inquiétante car elle témoigne du fait que la mer a eu raison des protections installées par les Jardiniers de la Mer. La zone concernée se limite à quelques 100m² aujourd'hui, mais demain… Chaque année, les assauts de la mer sur la plage de l'Almanarre sont plus forts.
Les défenses installées à l'Almanarre (Hyères) par le pionnier du repiquage de la posidonie, G. Cooper, sont composées de cadres de forme rectangulaire ou ronde, permettant la protection des jeunes pousses de posidonies repiquées.
Cette plante marine a pour fonction d'absorber les courants marins, de protéger nos plages et sert d'habitat à la faune et flore sous-marine. Afin d'évaluer la situation, les plongeurs de l' AREVPAM ont cartographié la gravité de l'érosion.
L'herbier, fragile, est toujours menacé, et par conséquence notre écosystème et nos côtes, si rien n'est entrepris.